Law Enforcement Transcription Services
Huntington Court Reporters & Transcription, Inc. is approved to transcribe for the United States District Court Central District of California.
Ironclad Quality at the Speed of Light
Security Accuracy Timeliness
Background-Checked Transcriptionists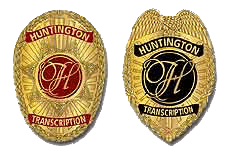 Toil no longer writing or typing your reports. Put the cyberspace world of on-line transcription to work for your department.
Digital dictation gives you instant access to expert transcriptionists 24 hours a day. Dictators can use a standard touch-tone phone, mobile phone, or digital handheld recorders

Using digital handheld recorders, there is no need to "sit" on the phone while flipping through pages of reports looking for a statistic. Simply "pause" your dictation and continue when you're ready.
The handheld device plugs into your pc or laptop and automatically uploads your dictation which is IMMEDIATELY available for transcription.
Armor Plated Security
Huntington Court Reporters & Transcription, Inc. understands the commitment of law enforcement departments to individuals' confidentiality and prides itself on adhering to strict confidentiality laws. Most of our transcriptionists are Certified Shorthand Reporters and steno-transcriptionists who have undergone background checks. We pride ourselves on our secured facility and onsite transcriptionist staff for those departments who request a secured facility and staff.


Approved Site
For a free consultation, please call: (626) 792-6777